Fastest Growing Sport in America!
Combining elements of badminton, tennis and ping pong, pickleball is easy to learn and fun for all ages.
Indoor Pickleball is on:
Wednesdays 11am – 3pm Full Gym (4 courts),
Thursdays 10am – 11:30am Gym Side A (2 Courts),
Thursdays 11:30am – 3pm Full Gym (4 Courts),
Fridays 11:30am – 2:30pm Gym Side A (2 Courts) and
Sundays 8am – Noon Full Gym (4 courts)
Beginner Clinic from 11am – 12pm every Sunday. 
Join in on the pickleball fun! No reservations required.  Free for YMCA members and $5 for drop in.
Keep an eye on Pickleball schedules and availability by downloading our app for APPLE or ANDROID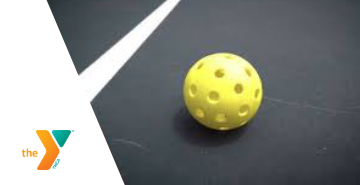 Pickleball will be for MEMBERS ONLY starting May 1st.