After almost drowning at the beach, Fernando has been terrified of the water. When he first came to lessons he would only stand at the wall gripping the edge with white knuckles and crying. Seeing how upset he was, Ms. Karen took it upon herself to work one-on-one with Fernando and his little sister. Within an hour Ms. Karen had him floating my himself! His mother, Nidia says he is doing much better now and they are looking forward to more private lessons.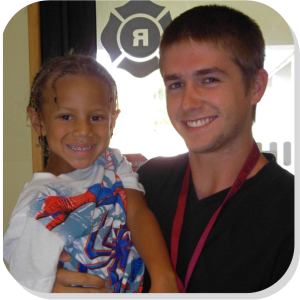 Hundreds of children drown each year in Florida.  Many of these children are being supervised by adults when this happens.  At the Y it is at the core of our mission to teach children to swim.
Six -year-old Noah was no exception.  When he came to  Summer Camp he could not pass the swim test.  Seeing that this upset Noah,  Mr. Adam  his counselor took it upon himself to work with Noah on his swimming skills while his friends were playing.  Within a week of  working with Mr. Adam, Noah could pass the swim test.
Noah came a long way from the start of camp.  He is now swimming with his friends all the while strengthening his skills,  his body and  his confidence.    Y Summer Camp is impacting the youth of our community in all aspect of their lives and tipping the  odds in their favor.