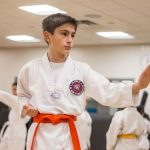 Taekwondo is a great martial arts activity for ages 6 and up that emphasizes kicks, spinning kicks, and punches using a combination of speed and balance.
Taekwondo helps to improve balance, flexibility, coordination, discipline, and confidence. Students may train for self-defense, physical condition, and/or competition.
Classes run on Mondays and Wednesdays 6:00pm – 7:00pm
Monthly Cost: $60 for members, $80 for non-members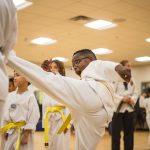 MMA beginner classes are for ages 6 and up. Classes will be held 2 days a week on Tuesdays and Thursdays from 6:00pm to 7:00pm in the First Grade Center located on the far side of the gym.
Members: $60 monthly
Non-Members: $80 monthly
Any questions please contact Mike at 561-502-2949 or Sports Director, Fred Longar at 772-286-4444 ext 248.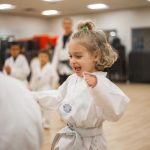 Session Info: 
Sessions run Tuesday, Wednesday and Thursday from 7pm to 8:30pm
Monthly Cost: Beginner Classes: $30 for members, $45 for non-members. (1x per week)  Team Practices: $50 for members, $65 for non-members. (3x per week)
For more information, contact Sensei Mike Mekantsishvili at 561-502-2949 or YMCA Sports Director Fred Longar at 772-286-4444 x 248
What is Judo? 
Judo originated in Japan as a derivative of the various martial arts developed and used by the samurai and feudal warrior class over hundreds of years. The techniques of Judo were modified so that Judo students can practice and apply these techniques safely and without hurting opponents: Judo does not involve kicking, punching, or striking techniques of any kind. Judo does not involve the application of pressure against the joints to throw an opponent. Judo involves no equipment or weapons of any sort. Instead, Judo simply involves two individuals who, by gripping the Judo uniform or Judogi, use the forces of balance, power, and movement to attempt to subdue each other. Thus, it is simple and basic.