"Working out at the Y is my therapy! It makes me feel alive. Having a personal trainer helps hold me accountable." – Faith Coleman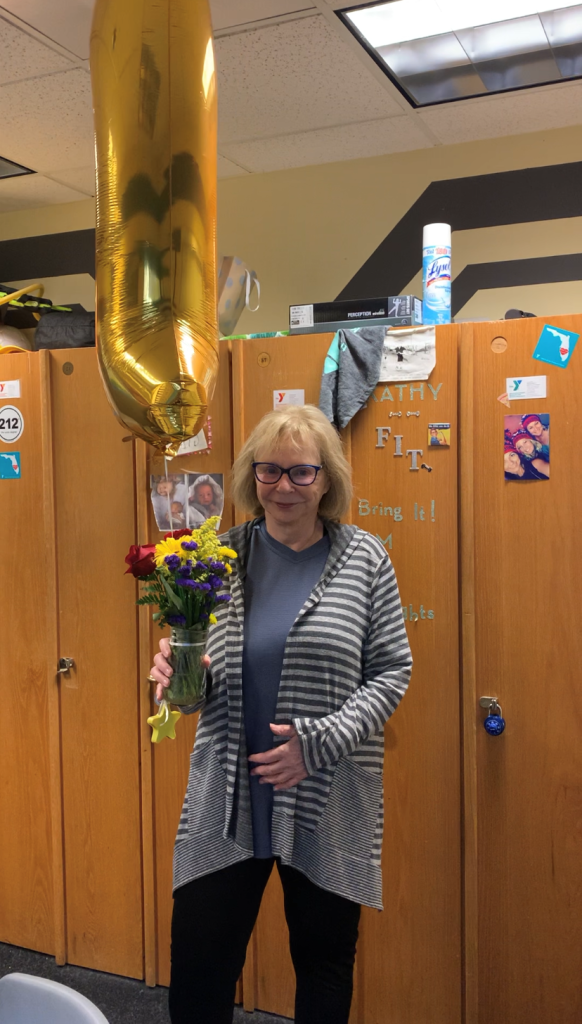 "The YMCA is a wonderful facility and I would not be where I am today without the support of the entire staff and my trainer." – Sheryl Miller
Sheryl was the winner of our 8 week Fitness Challenge.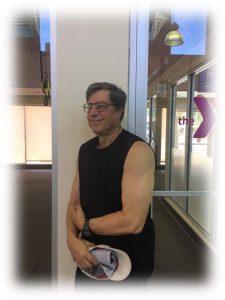 Fred Shaffer is a walking miracle. Battling health issues his whole life and taking medications to combat those health issues was something that wasn't new to Fred. At age 50, he decided he wanted to make a health change and began to workout. 6 months later, he had a heart attack while waiting for a flight to Colorado. It was minor, thankfully, and once recovered, he tried to workout again. As he slowly started back in the gym, he began to notice that he wasn't able to get his heart rate above 120bpm. Back to the cardiologist he went, where he learned that his main artery had a 90% blockage. His first heart surgery consisted of 2 stents being put in and a loss of 20% of his heart muscle. For the next 10-15 years, Fred battled numerous health problems including congestive heart failure, diverticulitis and a tumor on his kidney. Due to his medical knowledge from being a former paramedic, Fred knew that he needed a lifestyle change if he wanted to survive. He was struggling with the simplest of tasks. "I would walk up the stairs to the second floor, where my office was. But I would have to stop on the middle landing to catch my breath", he said. At that point, he joined the YMCA, and began personal training. His personal trainer taught him proper workout techniques, great form, and how to work out safely throughout multiple surgeries, which led to a quicker than normal recovery time. Now in his 70s, Fred is unrecognizable and in the best shape of his life! He continues to train and he said he has more energy and muscle tone now than when he did at 18. When asked if he had any advice for our members, Fred spoke with no hesitation. "It's never too late to have a lifestyle change. Don't ever give up", he said "On the days that you don't want to be here, those are the most important days to be here. You just got to push yourself through it." One of this favorite things about the Y is the atmosphere here. "Everyone here at the Y is just themselves, it's so much more comfortable than other gyms I've been in. Working out, it's all a matter of discipline. A trainer is worth the money. If you do it wrong and you don't get results or you hurt yourself, it's counterproductive. Go with a trainer for sure"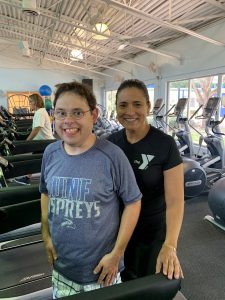 Franlene Torres has been a trainer here at the Y for a little over a year. She has trained clients of all ages, sizes, skill levels and goals, but no one has made an impact on her quite like Kevin Hempel. Kevin has autism and growing up, he never liked to exercise. "We have a bike at home, and we knew he liked to use that, but he needs more than that", said Jo, Kevin's mother. "We really wanted to get him out of the house and get him socializing in the community and we thought working with a trainer might be a good fit". When they came to the Y and met with Franlene, it became a match made in heaven. "Kevin hit it off with Franlene right away", Jo said. "He looks forward to exercising every week. His walking and posture have improved, he's sleeping better, even his social skills have improved. When you have a son who is differently abled, it's very important to find a trainer that they click with, and Kevin and Franlene just click".
When Franlene first met Kevin, she was so impressed with his motivation and drive. "Kevin counts all his reps out loud and it really pushes him to finish the set, which I really appreciate," Franlene said. She also said that she was amazed with how quickly he picked up on the exercise and proper form. She recalls where he was at when he started compared to how far he's come, and she said the transformation is night and day. "Kevin started off slowly on the treadmill, and every week I've been able to increase the speed with him and even add in an incline! We dance to Madonna (which happens to be Kevin's favorite), we work on the treadmills and the machines, and Kevin even swims after his workouts. He's truly amazing." Franlene isn't the only one being affected by Kevin's infectious energy. Staff at the YMCA look forward to Thursday's because they know that they'll hear Kevin's booming voice and charming personality when he steps through the front doors. "Kevin has impacted my life in so many ways. He's always so happy, and he's taught me that no matter what you can or can't do, no matter what you're going through, you get up and you fight, every single day. If you put your mind to it, you can do anything".