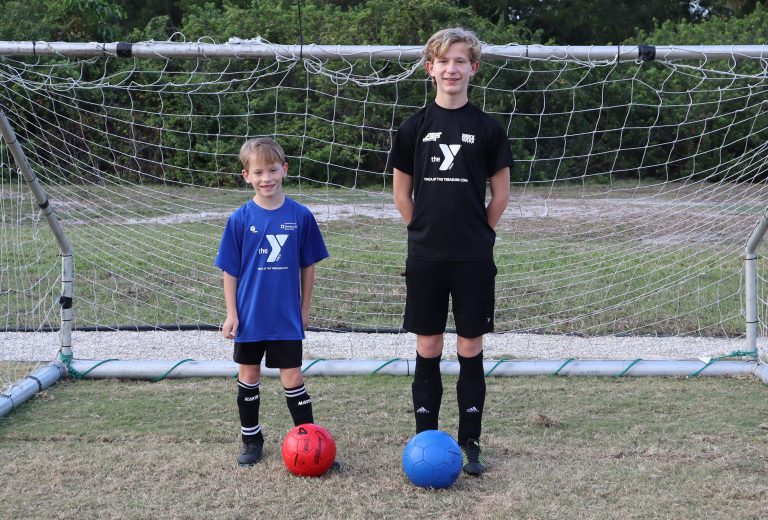 "My children have been playing soccer at the Y for over 2 years, they look forward to every practice and game. They have made many new friendships with other players that continue off the field. The coaches are amazing and help teach the kids courage, team building and leadership skills on the field. Fred is a fantastic Sport Director, he makes sure all practices and games run smoothly. He quickly responds to any questions or requests. Most of all, it's a safe and fun environment, we look forward to many more years at the Y." – Shani Snyder
Basketball Clinic in Indiantown
With funding from United Way and the Children's Services Council of Martin County, the YMCA of the Treasure Coast launched a series of youth basketball clinics in Indiantown in spring 2022. This basketball program was designed to teach skills and a love of the game, while concurrently helping youth develop life-long physical fitness and health routines. The program was led by Mariah Newkirk, a childcare staff at the Indiantown Branch. Please enjoy reading this success story – it clearly shows how the Y's programs benefit the communities we serve, across all ages!
"The YMCA Youth Basketball Clinic was just what the Indiantown Community needed. I have lived in this town all my life, and this type of opportunity was rare. Instead, we had to travel out to neighboring cities just to play in an indoor gym – I cannot recall ever being in walking distance of an indoor gym. I am grateful that I was fortunate to have parents and a travel basketball coach who believed in me and gave me opportunities that were nonexistent in Indiantown. Now, I am well-known in my small town for basketball; I have volunteered at South Fork High School for a few years, and I officially coached my first year of high school basketball last season (2021-2022). To be able to use my strengths and knowledge in providing this program to children in my own town was huge for me.
I partnered with Coach Roy DeGannes, who coaches year-round in Martin County and is part of a growing travel basketball organization. We started the clinic sessions by emphasizing the importance of stretching and warm-ups. Warm-ups consisted of proper dribbling techniques, passing drills, and under the basket form shooting. After this, we would separate the groups by age – younger and less skilled children learned how to execute a layup, while older and more skilled children learned to gain separation from an opponent to get to the basket.
I know this program had a significant impact on the children in Indiantown. For instance, two of the children participated in a college showcase tournament shortly after the clinic had finished. I was honored to be a part of that, and our team came out of the tournament undefeated! Another impactful story was from Sarai Paniagua, the mother of a clinic participant. Sarai was overjoyed and impressed by what her son, Miguel, had learned in the clinic. She told me about the drills Miguel had learned and took them home to work on them. That alone, was fulfilling knowing that this clinic allowed the youth to take something with them to enhance their basketball skill level. Most kids love basketball, but when they can gain experience and learn proper form and technique, it takes that love to a whole new level, one that can life-long impacts on health." –  Mariah Newkirk