Join the YMCA to be fulfilled, be inspired and make a difference every day . . . in a job that matters.
The YMCA is the largest not-for-profit community service organization in America, working to help everyone fulfill their potential. We offer opportunities in which you will have an impact today and tomorrow. You can learn, lead and serve in a variety of positions.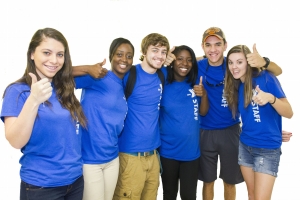 You may also apply at any YMCA of the Treasure Coast location, please see front desk for application. 
Thank You! The YMCA is an equal opportunity employer.
Port St. Lucie and Fort Pierce
Be part of something bigger this summer while having fun!
YMCA Summer Camp Counselors safely engage Kindergarten through 8th grade Campers in a fun-filled, action-packed summer program! Field trips! Swimming! Sports! Art! Academic Enrichment! All of this to make our community stronger as we live our mission, day in and day out!
$11 – $15/hour
FREE GYM MEMBERSHIP AND WEEKLY RAFFLES
Camp staff are fun, energetic, compassionate and love helping young people grow and learn.
Must be 16+ years of age and CPR/FA certified.  We offer CPR/FA classes at our Stuart branch.
General Function:
Under the supervision of the School Age Childcare Coordinator, the Lead Counselor is responsible for assisting with planning, development, and implementation of all school-age activities.
Essential Duties and Responsibilities:
Coordinates the day-to-day operation of the programs, including lesson planning, child discipline, and parent interaction.

Ensures the safety, and security of children at all times. 

Assists with staff recruiting, training, and performance.

Assists Director as needed with fundraisers, special programs, and school events.

May be responsible for opening and closing of the branch.  
Job requirements:
Associates Degree and 2 years prior childcare experience, or a combination of education and experience.

Excellent customer service skills are strongly desired.

Supervisory responsibilities – assists with the supervision of up to 5 or more staff.

Responsibilities may include planning, assigning, and directing work, evaluating performance, rewarding, and disciplining employees.

CPR/AED/FA required or obtained within first 30 days of employment. 

Applicant must be 21 years old or older as per DCF requirement. 
Must be available After School Hours. 
Pay Range: $12 – $14/ hour
**GYM MEMBERSHIP INCLUDED**
We are urgently seeking people who like working with school-age children, possess the ability to prepare and implement lesson plans, are safety minded and have excellent communication skills.We have immediate openings in the following locations:
CAST – 1100 Deleware Ave, Fort Pierce, FL 34950
Weatherbee – 800 E Weatherbee Rd, Fort Pierce, FL 34982
FKS – 1400 Ave Q, Fort Pierce, FL 34950
Need people who can work shifts: 6:50 am – 8:20 am AND 2:45 pm – 6:15 pm Monday thru Friday.
REQUIREMENTS:
CPR, First Aid, and AED Certifications are required but may be obtained within the first 30 days of hire. DCF 45 hours of training is mandatory. Have you met or are working towards this requirement? Prior experience working with children in a developmental setting is preferred but not required. Must pass drug test and level 2 Background Check.
Gym membership included!
Must be able to work a split shift